7th Skydiving World Record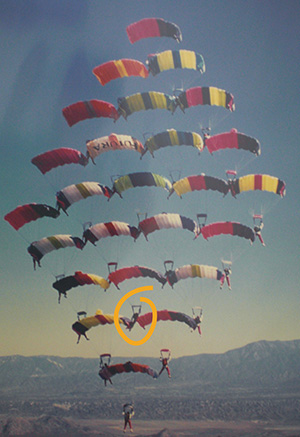 Click To Enlarge
This is my 7th world record.  And that's me!  The year was 1997, and I was 40.  Though rather beat up from my previous skydiving adventures, I did not hesitate for a moment to take part. 
This kind of skydiving is called CRW or Canopy Relative Work (skydivers call parachutes "canopies". )  The 25 participants on this dive are all women - and from all over the world.  I remember the gal to my right was from Iceland!  Though I was a highly experienced skydiver here, this was actually the first time I had been in a CRW formation this big, which made it quite exciting! 
To take part in this, we all had to jump these tiny, tricky parachutes.  The opening shock was awful - followed by a "hard to pull off" landing.  By the time we finished the world record (on the 25th try) my body was so beat up that I spent the afternoon in my hotel room throwing up.



Would I take any of my skydiving career back?  No.  Even if I did get pretty beat up?  Still no.  It was all such a huge adventure.  Of course, now I get to make up for all my past escapades.  Hence The Wheeler Method, this website and my many efforts at relieving pain.
Sandy

PS - This record still stands.  Amazing.